IGNITION




TRANNYS




EXHAUST




FORK KITS




ROLLING CHASSIS




INNER
PRIMARY




ALUMINUM
WHEELS


SPOKE
WHEELS




GAS TANKS




OIL TANKS




HANDLE BARS




HWY BARS




SEATS




SHOCKS




IGNITION




PLUG WIRES




CALIPERS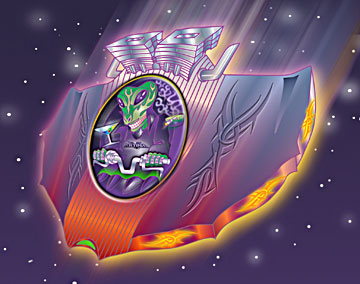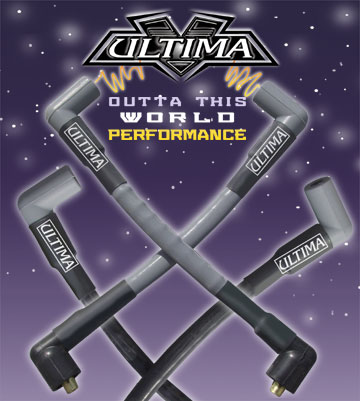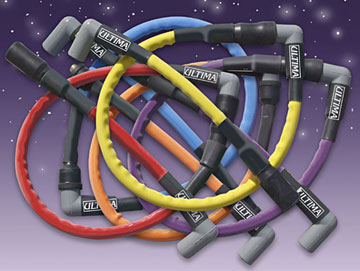 Ultima® Custom Wire Sets
Black, Grey, Red, Orange, Yellow, Blue & Purple
Up to 15 times more efficient than factory OEM wires to promote faster and more complete fuel burn in the cylinder head. Competition Sleeving used by most Winston Cup teams, covers the entire length of wire, boot to boot, is Silicone over fiberglass braid, provides 8000 volts of additional insulation to the wire and eliminates spark plug misfire and spark jump. Dyno-tested. Resulting in 2-6 hp increase over factory OEM wires.
---
Ultima® 40 OHM spark plug wires





The Ultimate in spark plug wire technology, 8mm plus
40 ohms of resistance per foot, which gives the highest spark energy transfer and the highest EMI/RFI supression. Kevlar® core center with a nickle copper alloy conductor wire, which is wound 124 times per inch. This type of center conductor is
a slightly smaller diameter allowing for an increased
amount of premium EPDM insulation material. The use
of Kevlar® produces a core that has four times the
strength of other aramid fiber cores resulting in a very
high tensile strength from a small diameter. the insulated
core is braided with high strength fiberglass strand for
improved resistance to terminal pull off.

The jacket is a high quality silicone product resisting
temperatures up to 600°F. Highest quality silicone spark plug
boots and coil boots. Posi-snap lock stainless steel spring clip terminals. Dyno-tested, resulting in 2 - 8 hp increase over factory OEM wires. Every wire factory tested for quality and reliability.
Wire sets come complete and ready for installation.
SOLD AS SET

18-481 For Twin Cam® 88 Softail® & Dyna® models.
18-482 For Twin Cam® 88 FLT.
18-483 For Softail® 1984 thru 1999, FX & FL 1965 thru
1984, and Sportster® 1971 thru 1976.
18-484 For Sportster® 1985 thru 2003 (except XLS) and
FLT 1985 thru 1998.
18-485 For FXR models & custom applications with the
coil located between the cylinders.
18-486 For Sportster® 2004.
18-487 For Twin Cam 88 with coil mounted between cylinders.
---
By entering this Site you acknowledge and agree that nothing contained on this Site shall be constued as granting rights, by license or otherwise, to any Ultima® Product's intellectual property rights, including but not limited to copyrights, patents and trademarks.

Use of the word Harley-Davidson®, various model names and designations, and OEM part numbers are provided soley for reference and application information and there is no affiliation between Harley-Davidson®, Inc. and Ultima® Products, Inc.