. . . . . . . ® . . . . . . .
A Barrel-Chested Brute of an Engine to POWER your Bike
The 127 Cubic Inch Engine . . .
Our True Animal.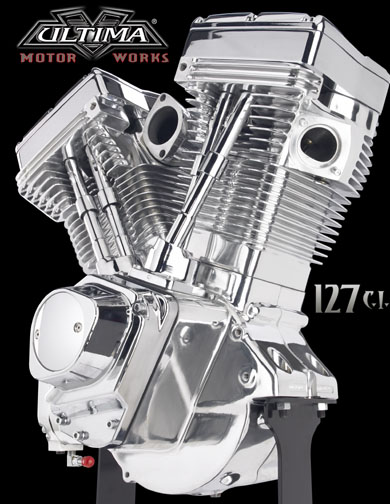 Our True Animal.
To download a 300 DPI Jpeg Image
suitable for Print Media:
>> CLICK HERE <<
---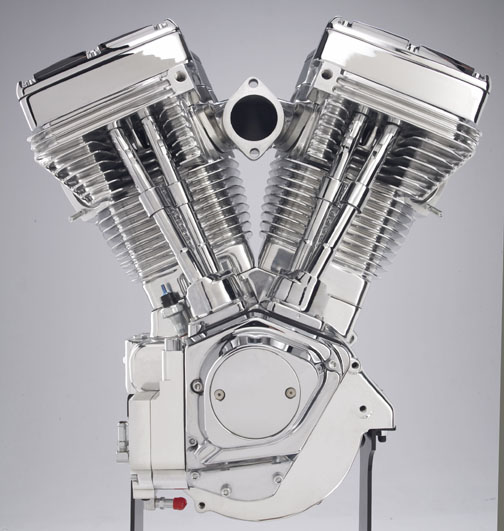 El Bruto™ Series 127 ci 4.25" bore Engines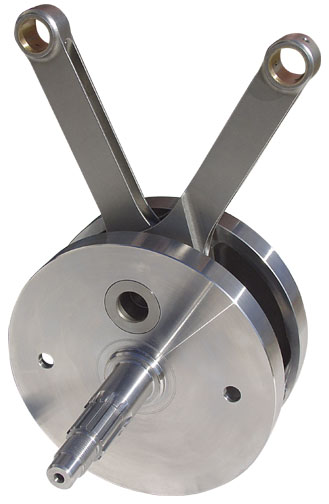 Heavy Duty 3-Piece Press Pin Type Crank
---
Ultima is now offering the new " El Bruto" series engines which are designed to provide our customers with a USA built High Performance engine that was priced to be the best value of any engines now on the market. Midwest's commitment engineering excellence and competitive pricing brought El Bruto to life with a completely new design set of castings emphasizing performance, reliability, and value.
All of the castings in these Engines are poured in US foundries and are based on all new CAD designs cast from C355 Aluminium a common US Military alloy known for its stability over multiple heat cycles. The engine components are machined on state of the art CNC equiptment for guaranteed dimensional accuracy and repeatability. All of our engines are dynamically balanced using propritory methods to provide the smoothest running engines on the market and now with our new high flow cylinder heads these engines now can boast the most powerful engines on the market as well!!
We think that you will agree these engines are the best value anywhere.
---
Product Specifications/ Highlights 127 Ci
Bore: 4.25"
Stroke: 4.5"
Piston: Mahle Forged
Compression: 10.2:1
Rated Power: 140RW Horsepower
145 LB FT Torque
Camshaft: 264 Duration .625" Lift
Pushrods: Ultima
Valve Spring: Ultima
Chrome Nose Cone/Rocker Boxes
Billet Oil Pump
Chrome Tappet blocks
Mikuni 45mm HSR Series Carburetor
Cases
See description here >> CASES <<
Crankshaft
Our New state of the art designed crankshaft incorporates a massive 1.670 diameter pin that is pressed into the one piece, heat treated, 4140 steel flywheel half making these crankshafts some of the strongest available on the market today. These crankshafts feature all new 7.7" long H-Beam rods with .927 diameter wrist pins to handle all the power you can throw at them. These are also balanced using our exclusive methods making these some of the smoothest engines in the industry.
Cylinder
C355-T6 Casting
Cast in heavy wall liners will not move
Liners are Centrifugly Cast with Graphite impregnated Nickle
for high durability
All Fins are machined for an excellent cosmetic appreance
Cylinder Head
C355-T6 Casting
All fins are machined for excellent cosmetic appearance
Twin Cam Styling means 30 % More fin than most
Evo style heads for cooler running
Compression release valves
2.100 Stainless Int Valves
1.700 Stainless Ex Valves
Manganeze Bronze guides
High Silicon WireValve Spring w/ Chromoly Retainer
127 CI Complete Engine
298-272 Complete 127 CI Engine-- Natural Finish
298-273 Complete 127 CI Engine---Black Finish
298-274 Complete 127 CI Engine---Polished Finish
127 CI Long Block Assembled
298-281 Long Block 127 CI Natural
298-281 Long Block 127 CI Natural Finish
298-281 Long Block 127 CI Natural Finish
298-282 LongBlock 127 CI Black Finish
298-283 Long Block 127 CI Polish Finish
127 CI Long Block Unassembled
298-284 Long Block 127 CI Natural Finish
298-285 Long Block 127 CI black Finish
298-286 Long Block 127 CI Polish Finish
---
Good Old
American
Know-How
Quality
Performance
Ingenuity
Style
Economy
Toughness
Tradition
Expertise

Tour the Engine Engineering Dept.
and Assembly Facility
>> TOUR <<
Styled Machining & Clean Custom Looks
That are backed up by
Smooth Powerful Performance