. . . . . . . ® . . . . . . .
E
C
O
N
O
M
Y

P
E
R
F
O
R
M
A
N
C
E
Ultima® 96" Engine
The 96 C.I. Ultima engines offer the best bang for the buck of any engine currently available. They areare designed to provide equal life and better performance than the OEM engines thay replace. We have combined proven OEM parts with our own high quality components replacing the weaker items of the OEM engines, insuring a problem free long engine life.
We think that these engines are the smoothest V-Twin engines available in the industry due to our exclusive dynamic balancing methods and we back them up with a 12/12 warranty. Assembled by professionals, all engines come pre-run and are complete less charging systems
Bore 3-5/8" Stroke 4-5/8" Piston: Mahle Forged
Compression Ratio: 9.8:1
Rated power: Rear Wheel Horsepower 100 Torque 105 lbft.
Camshaft: Midwest 520 - Lift .520", Duration:262 Intake
272 Exhaust
Pushrods & Valve Springs: Ultima
Nose Cone/Oil Pump: OEM H-D® Parts
Carb: Mikuni 42mm HSR Series
Chrome rocker box, tappet block, nose cone
Polished oil pump on cast case . . .
Black powdercoat on black cases
CASE FEATURES:
Made in U.S.A. Cast-in steel inserts guaranteed not to move. Large bore breather for increased crank case vacuum and less blow by. 1/2" Alignment dowels for true line bore. Counterbored stainless steel allen head case bolts. Close machining tolerances. Made from prime C335-T6 aluminum that is superior in strength to A356. Styling and cosmetic machining for a sharp custom look.
CRANKSHAFT:
Forged 4140 Steel. Dynamic balanced for the smoothest running engines in the industry. Light weight high-performance H-Beam rods. Jims machining shafts and pins.
CYLINDER:
Ultima® 3-5/8" bore heavy liner. Forged Mahle flat top Pistons
HEADS:
H-D® Castings. Ultima valves: 1.840 Intake, 1.615 Exhaust.
Ultima valve springs.

#298-162 96 C.I. Engine with Natural finish Case
#298-163 96 C.I. Engine with Black finish Case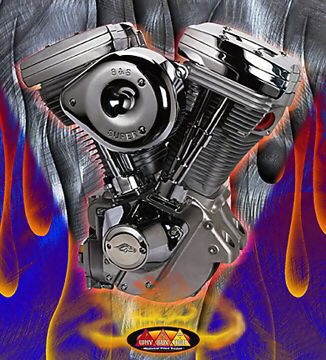 New Cad-Cam designs produce a
highly engineered efficient & economical product.

Accomplished Engine Designer and Racing Engineer Ken Francis states:
"The big difference between our product now and what we had in the past is that we do have a much lighter reciprocating weight in the engines that don't shake that much. They are in fact, pretty smooth."
"These engines are VERY AFFORDABLE by efficient design & engineering."