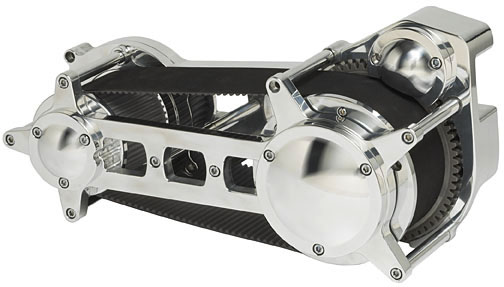 3.35" DRAG RACE STYLE Belt Drive

Ultima's Open Primary Drives are now retrofitted for extended applications,
now covering 1990 - 2006 Evo & Twin Cam Softails® & Dynas.
Smart Economy! Savvy Design! Sturdy Construction!

The Drag Race style unit with the out board support was
designed to handle all the power you can throw at it, with an extra clutch
assembly plate & Goodyear 85mm wide (3.35") belts to put it to the ground.
Has aluminum backing plates* in billet 6061-T6.
#58-700 Drag Race Style Belt Drive Assembly, Polished
1990-2006, Cast backing plate
#58-800 Drag Race Style Belt Drive Assembly, Polished
1990-2006, Billet Aluminum Back Plate
#58-801 Drag Race Style Belt Drive Assembly, Machine Finish only
1990-2006, Billet Aluminum Back Plate

#58-903 3.35" Goodyear 140t Replacement Belt
#58-946 NEW!!! Black 3.35" Drag Style Belt Drive for Evo®& Twin Cam® Softail®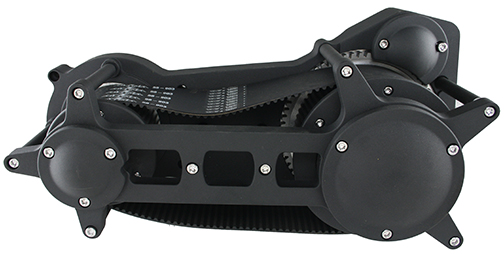 3.35" STREETSTYLE Belt Drive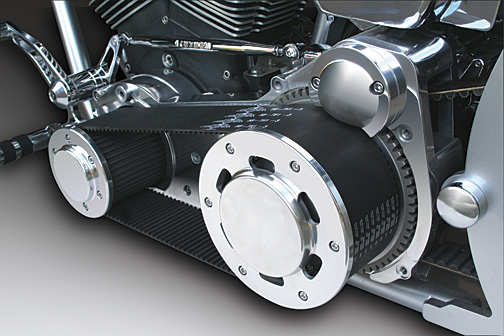 #58-730 Street Style Belt Drive Assembly, Machine
#58-947 NEW!!! Black 3.35" Street Style Belt Drive for Evo®& Twin Cam® Softail®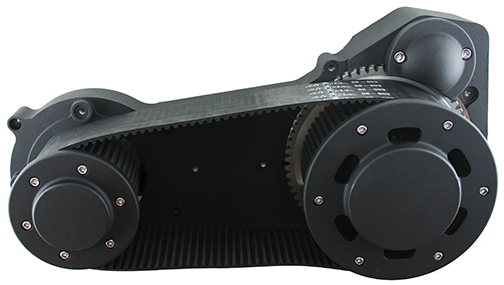 Finish only,
cast backing plate. 1990-2006
#58-810 Outboard Support Assembly (upgrade for street stock drive, see below)
To See Three Additional Outboard Support Designs
>> VISIT OUR BELT DRIVE ARMORY <<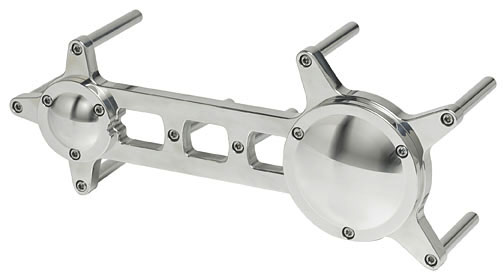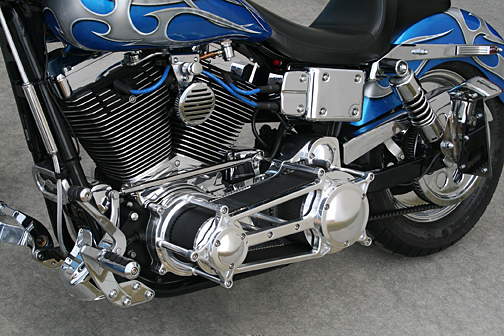 Dyna Belt Drives for Evo & Twin Cam:
#58-902 Shown with optional Outboard Support Assembly Style
#58-904 Drag Race Style Belt Drive Assembly, Polished
1990-2006, Billet Aluminum Back Plate
#58-902 Street Style Belt Drive Assembly, Polished
1990-2006, Billet Aluminum Backing Plate

#58-903 3.35" Goodyear 140t Replacement Belt
#58-904 & 58-902 Pictured Below: