>> CLICK HERE <<
To Visit Ultima Product & Instruction PDF Download Page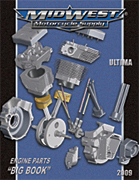 NEW! ENGINE PARTS REFFERENCE GUIDE NEW!
>> Engine Parts Big Book <<
...................................


Take a Tour of our newly expanded Ultima Machine Shop: CLICK ABOVE
For an Ultima Products Catalog call your Midwest Motorcycle Supply Sales Rep.
Ultima® Products is distributed exclusively by
Midwest Motorcycle Supply
Download a Midwest Motorcycle Dealer Application at the link below:
>> DEALER APPLICATION <<
We do not sell to the retail public, to apply for a dealer application follow the link above to
the official website of Midwest Motorcycle Supply.
. . . . . . . . . . .
Ultima® Company LLC. is the copyright owner of all text, images,
and other material contained on this sight. Copyright 1971-2017 by
Ultima® Company LLC. All Rights reserved
By entering this Site you acknowledge and agree that nothing
contained on this Site shall be construed as granting rights,
by license or otherwise, to any Ultima® Company LLC.
intellectual property rights, including but not limited to
copyrights, patents and trademarks.
Use of the word Harley-Davidson®, various model names
and designations, and OEM part numbers are provided soley
for reference and application information and there is
no affiliation between Harley-Davidson®, Inc.
and Ultima® Company LLC.