ULTIMA LINE OF CABLE PRODUCTS:
THROTTLE / IDLE / CLUTCH
Ultima Cables feature polished chrome fittings.
Available Black Vinyl outer casing or Stainless-steel braiding.
Cables have tempered steel inner conduit and an inner nylon liner
for smooth operation and extended life.
Braided cables feature an abrasion resistant outer housing
coated with a non-yellowing clear covering.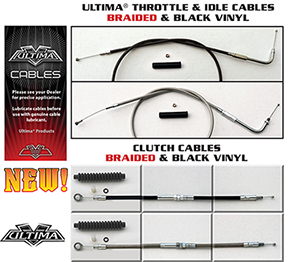 To Download Application PDF click below:
>> Ultima Cables Application PDF <<