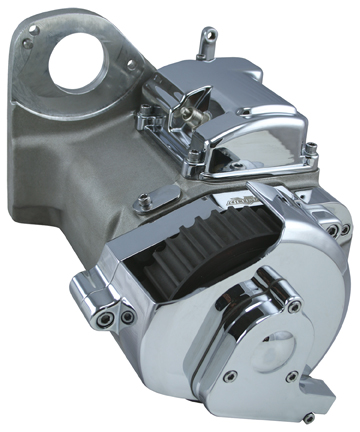 Ultima® has already proven the quality of their LSD transmissions and
6 speed builders kits to thousands of loyal customers. We are now offering
both, cable type and hydraulic type, direct drive Right Side Drive 6 speed
transmissions in polished, black and natural finishes. These new transmissions
feature gears and shafts made from forged 8620 steel, pro-cut lead ramps, billet trap
door, and a 32 tooth transmission sprocket. All transmissions come with a 12 month/
12,000 mile warranty and are packed with features found in much
higher priced transmissions.
#201-31 Cast Finish Cable
#201-32 Black Finish Cable
#201-33 Polished Finish Cable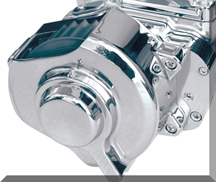 #201-34 Cast Finish Hydraulic
#201-35 Black Finish Hydraulic
#201-36 Polished Finished Hydraulic
RSD 6 SPEED FEATURES INCLUDE:
Direct drive 6th gear for more efficient power transfer in 6th
Gears and shaft made from 8620 steel for durability
Pro-cut lead in ramps for positive shifting
Hard chrome plated steel shift forks for durability
Roller detent for ultra smooth shifting
Billet trap door
Permanent Mold transmission case machined from A356-T6
Close ratio 2.94 Low gear set
.86 Overdrive 6th gear
Designed to use OEM style speedometer sensors
Fits Softail® models 1991-1995 and 1996-1999 if speedo adjustment unit
17-147 or equivalent is used.
Assembled by professionals.