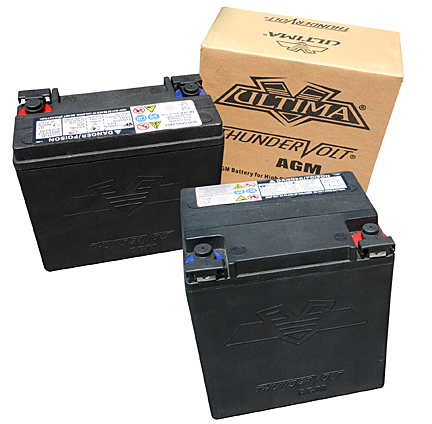 Thundervolt AGM Batteries
Ultima's AGM Thundervolt® batteries are the highest performance batteries
we offer today! These are an industry first, with a direct fit aftermarket replacement
for OEM# 65989-97A. These batteries provide some of the highest power ratings
available in the Aftermarket.
FEATURES:
• Patented post design reduces internal battery
resistance by replacing 3 internal connections with 1.
• Flush mount, threaded terminals allow for easy connection to bike terminals.
• Nonspillable, sealed AGM Valve Regulated Lead Acid (VRLA) design is maintenance free and meets all requirements for shipment via air carrier.
• Rugged construction has been lab tested and field tested to ensure long life,
even in demanding V-Twin applications.
• Higher AH capacity than OEM means more starting capacity before
wearing battery down, particulararly useful for those stubborn steeds.
• Manufactured by an ISO 9001:2000 registered factory
• Patented Cast-On-Stip (COS) manufacturing technology ensures
consistent long battery life.

Ultima Part # OEM Part # Applications
#1-140 5989-97A '97+ Softail, '97-'03 XL, '97+ Dyna
#1-142 66010-97A '97+ FLH, FLT
...................