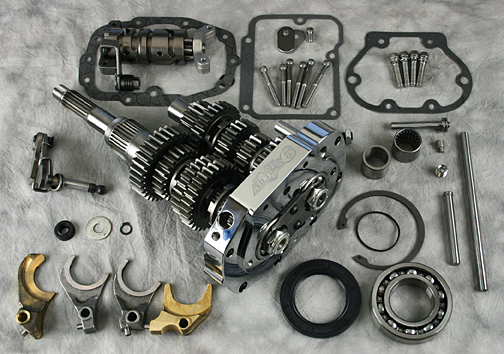 The Ultima® Six Speed Builders Kit
The Ultima Six Speed Builders kit was designed to provide a simple, low cost, 6 speed overdrive solution for 1990/L Big twin owners. These kits work in most 1990-1999 models with little or no modification. A speedometer recalibration unit is required on some 1996-2000 and all 2001 later models. These kits will work in 5 spd type 2000/Later models with additional minor modifications. The trap door is thicker than stock so any brackets used that are trap door mounted may need modification. Complete instructions included or available online. All Touring FLT and FLH Models 93/L require an oil filler spacer #89-14. Ultima 6 Speed Gear sets are the same ones used in our transmissions and are great value products .

Features:
Roller Detent for smoother shifting
Steel shift forks
Precision Ground 8620 Gears and shafts
Chrome Plated Billet Trap Door
Ratios are:
1. 2.94:1
2. 2.21:1
3. 1.57:1
4. 1.23:1
5. 1:1
6. .86:1


98-902 Ultima 6 Speed Builders Kit 1990 & later Big Twin
5-spd models.
>> Click Here for 98-902 Instructions <<
---
---
---
By entering this Site you acknowledge and agree that nothing contained on this Site shall be construed as granting rights, by license or otherwise, to any Ultima® Product's intellectual property rights, including but not limited to copyrights, patents and trademarks.

Use of the word Harley-Davidson®, various model names and designations, and OEM part numbers are provided soley for reference and application information and there is no affiliation between Harley-Davidson®, Inc. and Ultima® Products, Inc.